It is actually quite simple to play Powerball online, even if you are in the UK. And it is quite convenient too.
Make sure you chose the correct lottery, namely Powerball. Then you select your numbers. If you try to pick too many numbers or have not selected enough numbers, the system will prompt you to pick fewer or more numbers.
There is also a method that many players like to use – the quick pick function. All you have to do is click the quick pick button, and the site will pick some numbers at random for you. You can still manually edit those numbers if you do not like them. Or you can use some of your favorite numbers manually and let the random numbers generator pick the rest for you.
Once you are finished picking the numbers for Powerball, you can select another lottery, play more lotto tickets and add them to your order. Once you are done, click to check out and safely pay for your tickets. At this time, you will have to create an account with us. Of course, you can also create your account first and then start the process of ordering your tickets.
After you created your account, your registration on our site must be verified. We will send you a verification email with a link that you have to click to verify your email address. Please be sure to check your spam folder. It would be wise to mark our email address as a trusted sender. This ensures that important messages like notifications of winnings will actually reach you. That is one of the upsides of playing Powerball online – you will never miss a win because you will always be notified by us.
You will be taken care of you every step of the way, where all you have to do is set up a free account, make your selections, choose one of their numerous convenient payment options, and we will do all the rest.
This really has brought lottery playing into the 21st century, and this is the biggest thing that has happened to lotteries since tickets first went on sale. If you're not taking advantage of this service, you are really missing out on all of the great lottery action that is out there waiting for you.
About Powerball
Country: USA
Main numbers range: 69
You pick: 5
Extra numbers range: 26
You pick: 1
Draw days, hours: Wednesday, Saturday, 21:00 EST, +1 day 3:00 CET
Minimum jackpot: $ 40 million
Jackpot capped at maximum: none
Probability of winning the jackpot: 1 in 175.223.510
Probability of a tier 2 win: 1 in 5.006.386
Probability to win in any tier: 1 in 24,87
Number of prize tiers: 9
The Powerball Lotto is offered by lottery retailers in 41 different states in the United States. With such a large population base to draw upon, and considering how popular lotteries are in the U.S., it's no wonder why this lottery is so big, with such huge prizes. This lottery is so big in fact that the second prize is a million dollars, with several people usually winning it during each draw, which takes place twice a week. However, just winning a million dollars isn't why most people play it, as they have dreams that are a lot bigger than that.
Best features of Powerball
No matter how big your dreams are, though, the Powerball Lotto has the power to satisfy all of them, and then some. With jackpots regularly in the hundreds of millions of dollars, this is definitely what you would call a gigantic amount of money to be won.
Powerball Lotto historically started out at $20 million, and although this is definitely a very nice chunk of change, recently they have ramped up the minimum to an even more exciting $40 million. So even before things get built up to some crazy numbers, as is often the case with this mega-lottery, the lowest jackpot possible is already the kind that we want to line up for.
Each time there isn't a jackpot winner, the jackpot grows, often to a hundred million, two hundred million, and even three hundred million at times. I think that most of us would agree that even a minimum of 40 million dollars would be enough to have us living out all of our fantasies, but when it comes to lotteries, the bigger, the better. So if you are like most people and love bigger, this one is definitely for you.
What else you need to know about playing Powerball online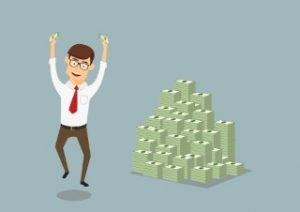 Powerball offers jackpot winners two ways of being paid their winnings. You can either take a lump-sum payment now, or you can go for a lot more money by receiving it in 30 annual installments. Each installment is graduated to adjust for inflation, meaning that your huge payment in year 1 will continue to keep its value in the years to come.
If you do win, you will have to decide on which payment type you want to go with, but one thing is for sure, this will be by far the most pleasant decision you will ever make in your life. They do give you 60 days to choose, which will give you plenty of time to get the best professional advice out there, as well as do plenty of thinking and dreaming about what you will do with all this money.
How to check the Powerball results
There are a number of ways to check the winning numbers and results of Powerball from the UK. But if you have played Powerball online, the easiest way is to come back where you bought your ticket. In your account, you will be able to compare your numbers with the numbers from the last draw. You will also get an email message whenever one of your tickets has won something.
You played Powerball online and won – what happens next?
Our service includes handling the payouts for you. You do not have to worry about getting paid. And we do not charge any commission on your winnings.
The procedure depends on how much you won. If you won an amount of €2500 or less, then you will get that amount credited to your account with us. You can withdraw it or leave it in your account and use it to play more online lottery tickets.
If you win a larger amount we will email a claim form to you. You then have to fill in some personal information, including how you would like to get paid. There are two options: bank transfer or check. We will forward the claim form to the lottery commission and they will pay you according to your instructions.
How can residents of the UK play Powerball online?